Softwash Roof Demossing with Eco- Friendly Cleaners ~ With Guaranteed Lasting Results
Servicing the Coast from Sechelt to the Discovery Islands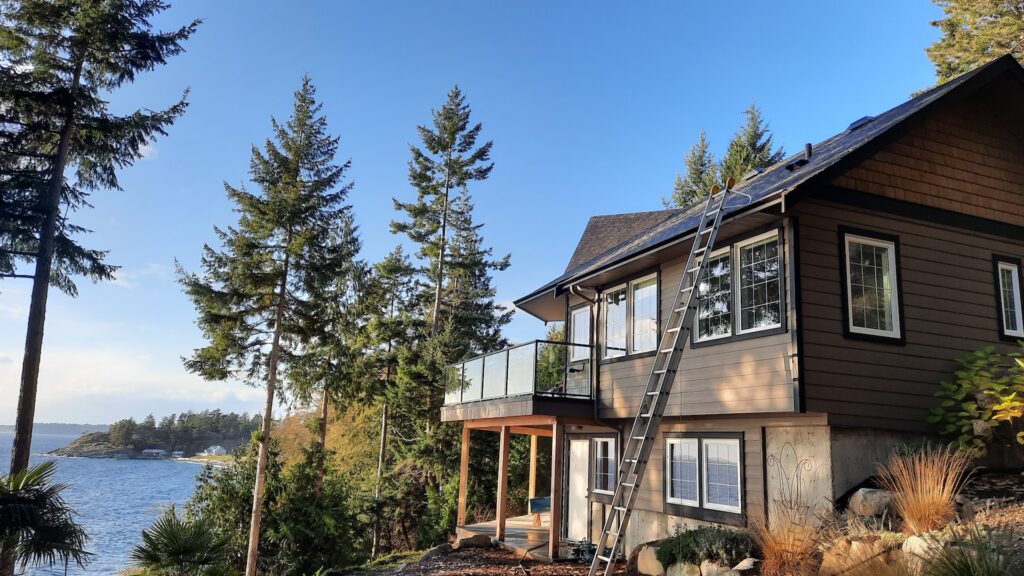 The Company is Fully Insured and in Good Standing with WCB
Powell River Roof Cleaning can treat moss and algae on any size and shape of roof. The company possesses an array of ladders varying from 3 ft to 40 ft. We take the safety and protection of our crew seriously.  Stand-offs on ladders are used for both stability and to ensure gutters are not dented. 
Our technicians all have industrial rope access training and work experience. Past experience with difficult access jobs have included ice removal on the Port Mann Bridge, hanging rock-fall protection over highways, installing anchors and banners on the sides of buildings, glazing, high-rise window cleaning and construction management. 
For a Free Quote, please call Powell River Roof Cleaning at 604 483-6514
"Powell River Window Cleaning recently cleaned our metal roof, gutters and windows and we are extremely happy with the results. We would definitely recommend Nate and Keely to anyone looking for a cleaning service. Our house hasn't looked this good since it was first built. Nate and Keely are a very professional, hard working and personable team who obviously take great pride in a job well done."

George Smith
Home Owner, North of Town

"We were both extremely impressed with Powell River Window Cleaning. Fortunately the weather cooperated and they arrived promptly in the morning of the 23rd as scheduled. Then they proceeded to work tirelessly and until dark when the job was finally done. Both our roof and us are much happier now, the moss on the other hand is looking for a new home."

Dawn Adaszynski
Home owner in Powell River
We can clean: asphalt shingles, ceramic and cement tiles, cedar shakes and metal roofs
Moss and lichen in the forest are beautiful and an important part of the ecosystem. Moss and lichen on roofs however is quite destructive. Roots find their way under tiles and shingles causing them to lift, warp and crack. If left long enough, moss and lichen will start attaching to the granules of asphalt roofs and stripping the shingles of UV protection. Moss has the capacity to hold large amounts of moisture, keeping the roof constantly damp. A wet and damp environment is ideal for the growth of mildew, mold and rot. Softwashing kills the roots of all organic material and treats and eliminates the black bacteria that stains and darkens roofs.
Softwashing keeps moss and algae at bay 3-5 times longer than traditional pressure washing or traditional moss removal. Our cleaning method and mixtures are approved by the Canadian and American Roof Manufacturers Association. This will not void your roof warranty nor will it reduce the lifespan of your roof.
We guarantee our work for a two year period. If you see any re-growth during this time, we will come and spot treat those areas free of charge. 
Our 5-Step Roof Cleaning Process
Gently Remove Moss with a Soft Broom. Depending on the condition of the roof and type of moss, we may eliminate step 1 and continue with Step 2. This is particularly relevant when treating asphalt shingled roofs. If the roots of moss and lichen have  attached themselves to the granules on the shingles, sweeping off organic material can remove granules along with the moss.  Going straight to Softwashing will leave the granules undisturbed.
Clean out Gutters. Whether or not we have swept off the roof, we must ensure your gutters are completely free of debris. This is so decomposed chemically-treated moss and lichen can flow freely through the gutters and downspouts.
Softwash the Roof. We softwash with a low pressure high-volume commercial grade sprayer. It is not a pressure washer and there is no concern of stripping granules off asphalt shingled roofs or having water seep in under the tiles. We thoroughly soak the roof with a biodegradable chemical mixture and concentration specific to the type of roof material we are cleaning. The effects of the chemical mixture are immediate – with moss and lichen turning white when all roots are dead. 
Clean-Up. All moss and organic material that is on your roof will come off. Expect a mess! At the end of the job we will rake up moss from the yard and hose off patios and steps. All roof and gutter debris will be packed into contractor bags and taken offsite.
Let the Weather Wash Away Decomposed Organic Material. This is the ideal restoration method. If you are needing the roof to look pristine immediately, we are able to hose off dead organic material after Softwashing. Hosing off the roof takes significantly more time and is an added expense.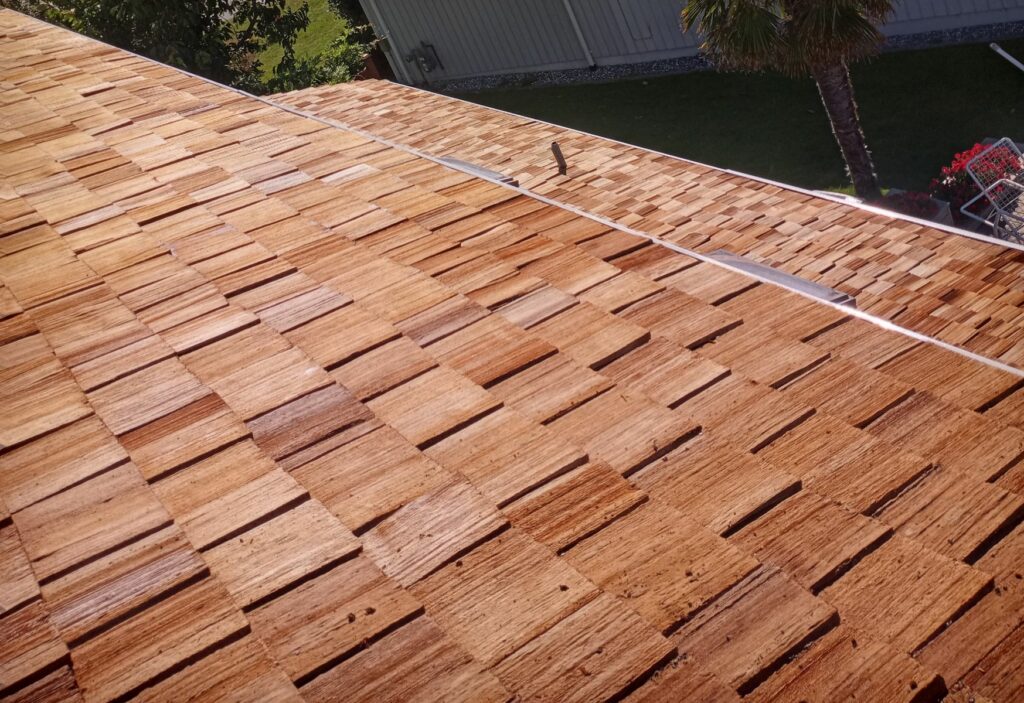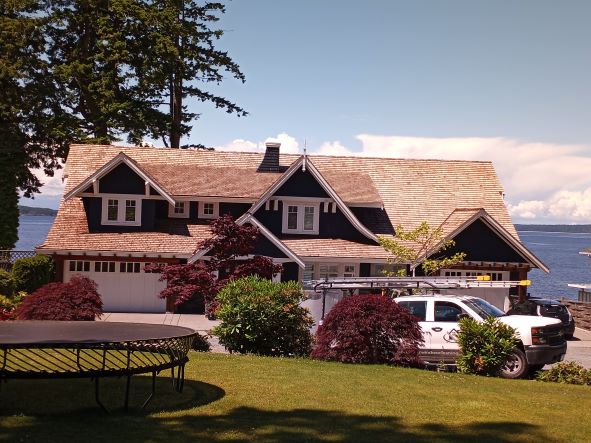 Our cleaning and restoration will not strip natural oils from cedar shakes or shingles and are low pressure, which will not damage the natural grains of the wood. Call us to find out more about how we can renew your cedar roof.
For metal roofs we specialize in steep, high and awkward cleaning.
Same People, Same Great Service.
These two affiliate companies offer total exterior house cleaning services + window Cleaning.
ROOF  CLEANING
SIDING CLEANING / HOUSE WASHING
WINDOW CLEANING ~ interior & exterior
PRESSURE WASHING
GUTTER CLEANING
Checkout Powell River Window Cleaning.com for details on all other services.
When we book an appointment, we do our best to honour that time and complete the work in full. Some scheduling flexibility is required as we cannot treat roofs in the rain. Chemicals are diluted too much if it is more than a light drizzle. If it is too windy, we may also choose to reschedule as spray needs to be controlled. We monitor the weather closely to ensure that it will be a safe and effective day for the work we are undertaking.
Please call  us for a free quote.
ROOFS
Roof cleans start at $400 this would be a small garage . Average sized roof cleans are between $500 – $1000. For roofs with a large surface area, steep pitch or complex roof lines, prices are $1000+. 
Our quote includes the price of demossing spray as well as the removal of all gutter and roof debris. We do not do partial roof cleans for first-time customers. If you have been a customer of ours and had a full-roof treatment, we are available to do localized treatments if moss starts to reappear years later. We give a two-year guarantee on our work after the initial full roof clean.
Roofs can vary significantly in square footage, pitch, height, access, complexity and moss growth, so please call us to schedule a free quote.
If you live on Texada or another island, a photo quote can be arranged.
PREVENTATIVE MAINTENANCE
The most cost effective method of roof cleaning is to not allow the moss to grow on your roof in the first place. We offer a maintenance package which includes an annual inspection of the roof  for any signs of organic growth and a bi-annual preventative roof treatment, which completely eliminates the possibility of moss, algae and lichen from infesting your roof top. This service is offered at a fraction of the cost off our de-mossing service. We highly recommend this for all of our roof demossing clients as after care, starting 2 years after our roof demossing service date. Please contact us to find out more details and for pricing.
Frequently Asked Questions
Call or email today to schedule your punctual, professional cleaning with a firm quote.